About Gloria Romberg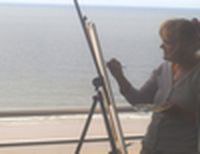 GREVOLUTION is here and now and forever!

Gloria Romberg was born in 1962 in Germany. At the age of 14 she started with own works. Drawings with charcoal and painting on paper, solid paper and cartonage. Autodidact. Since 1995 privately teached by german painters in Düsseldorf, Germany and since 2006 in Berlin, Germany. Paintings with acrylic colours on solid paper and with acrylic colours on canvas. Later she also worked with acrylic colours on wooden plates. In november 2014 she painted three oil barrels for the exhibition of the commonly artists project ART BARREL in the Art Gallery of the Casino of Middelkerke, Belgium. Since 2009 she works and lives with her female partner, the artist and cartoonist StellaR, in Oostend, Belgium as an artist of the fine arts specialised on modern abstract paintings. Her main themes are architecture, ecology, economy and our future. The city of Oostend, working and living place of such well known artists as James Ensor and Leon Spilliaert, is a big motivation for her works. Being not a mainstream artist, her works are highly appreciated. Her style is right of her own, never water being added to the wine. Not only Belgians but also french, german and british visitors of Oostend are into her special artistic and unique paintings. "James Bond" superstar Pierce Brosnan, owner of her work "Model House No. 5", declared and rated it as "gorgeous" in front of the running television cameras during the act at the international Film Festival Oostend 2014, where he received a golden star for his work on the seaside walk. Another work, "The Healer", depicting the flying TARDIS spaceship of the famous british BBC TV series "Doctor Who", went to a collector in France. She also works in the public, on open air art fairs and "Place du Tertre" art days, where the artists are painting her works in front of hundred of people like on the famous Montmartre in Paris, France. The most works of her, she paints in her studio right at the seaside of Oostend, looking over the beach and the sea, facing on the other side the shore of Ramsgate,England and breathing the salty air of the North Sea.